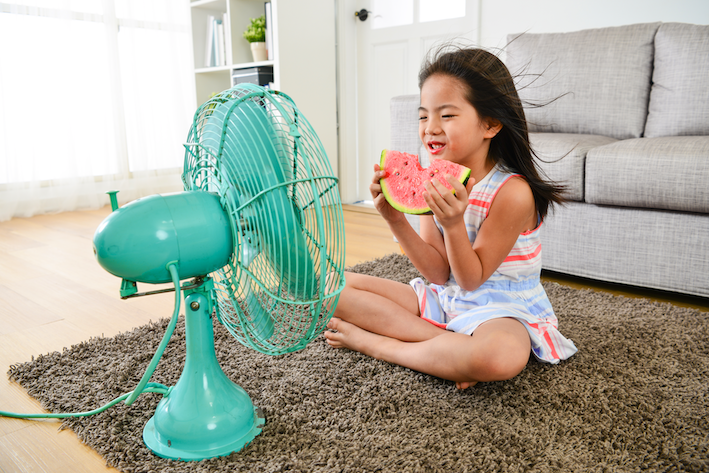 This summer here in Southwest Florida has been a scorcher. Temperatures feel far warmer due to the heat index than it reads on the thermometer. With humidity at an all-time high, it makes spending time in our beautiful Florida weather trying even for the most seasoned Floridian.
Here are our top suggestions for keeping cool this summer, no matter how hot it is outside!
#1 Surprisingly do not crank down your air conditioner to an unusually low temperature. Setting your thermostat at 60 may feel good at first but it regulates your body to a very low degree so that when you have to leave that unnatural environment you will actually feel even hotter and more uncomfortable than before. Lower your thermostat only a few degrees below normal if you want to cool off.
#2 Use ceiling fans, oscillating fans, and even box fans to cool down. Fans, unlike air conditioning, blow directly on you and work by evaporating moisture (sweat). They can help to cool you down quickly and keep you feeling comfortable all day (or night) long. Many people sleep better with a fan on due to the circulation as well as the white noise they produce.
#3 Icy Treats – Drinks with ice, slushies, and popsicles all can help lower your body temperature temporarily. Make sure to stay hydrated, drinking a gallon of water per day. Coffee and soft drinks and even iced tea do not count towards that as they have dehydrating caffeine in them. For every cup of coffee, you need to add one additional cup of water throughout the day.
#4 Run your wrists under cold water. We know that's asking a lot from our Florida water system. Unlike the water up north, our flow almost never cools down. Instead, you can fill the bathroom sink with cold water and even some ice. Dunk your hands and wrists (your wrists contain pulse points which help to circulate the lower temperature quickly throughout your entire body) The back of the neck is also a great pulse point to apply ice wrapped in a scarf or handkerchief, especially if you are working outdoors.
#5 Use peppermint oil! – That's right… peppermint essential oil has an amazing cooling effect. You can use drops directly from the bottle on pulse points or you may get a water sprayer bottle and add in 10-20 drops. Mist yourself with the mix avoiding eyes. It is amazingly cooling, helps keep bugs at bay, and smells amazing. This is a great idea to take to the beach with you or if you are hitting the pool.
As always, if you need your air conditioner repaired, maintained, or even replaced, we would love to give you a quote and offer you the best information possible to get your home back to cool and comfortable again.
Give us a call at 239-357-0727 or visit www.alldayaircooling.com to learn more or make an appointment today. We are available 24/7 for emergency service!