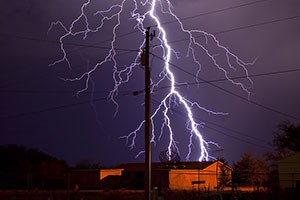 Protect Your Appliances from Damage
Electric power surges could slowly be harming your electrical appliances little by little and day by day, and because these surges are generally caused by thunderstorms and lightning, it should come as no surprise that power surges pose a particular problem in Florida, where thunderstorms are a daily occurrence for many months throughout the year. All Day Air Cooling & Heating has the solution in the form of surge protection for your home or office.
Modern homes and offices are utilizing more appliances and technology than has ever been the case before, making them highly susceptible to the level of damage that can occur from power surges. A strong power surge can reduce the lifespan of your computer, washer and dryer, tv, stereo, dishwasher, video game system, and more, by up to 30% according to some estimates, resulting in hefty repair or replacement costs for you. Surge protection solves this problem by reducing the vulnerability that your many appliances have to the occasional inevitable power surge.
At All Day Air Cooling & Heating we offer point of use surge protection, as well as whole house surge protection.
We highly encourage our customers to choose whole house surge protection, as these systems single-handedly protect all appliances in a home or office from a single location at the electrical panel. To discuss both options and your other surge protection needs with an expert, give us a call today and receive a free quote on your services.