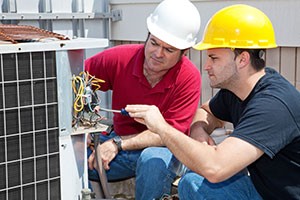 Get the Most out of Your HVAC System
The most important thing that any home or business owner can do in order to lengthen the lifespan of their cooling system while keeping their costs low, is to have their equipment regularly serviced by a professional, like the technicians at All Day Air Cooling & Heating. Regular maintenance can both keep your air conditioning working at its optimal efficiency, and possibly identify any potentially serious problems before they start.

At All Day Air we offer two affordable Estero AC maintenance packages:
$89.99 Annual Plan - complete AC check, indoor and outdoor unit deep clean
$149.99 Deluxe Value Plan - everything included in Annual Plan, twice per year
If you're looking to reduce your cooling or heating costs while maintaining a comfortable temperature in your home at all times, then preventative Estero AC maintenance service is truly the type of service you should be seeking. The average lifespan of a well maintained air conditioner is fifteen years, and regular annual maintenance from a professional is the only way to ensure that yours will stand the test of time.