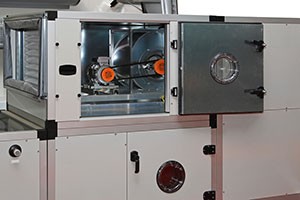 A Healthy Air Handler Means a Healthy HVAC System
Air handlers are extremely vital components of any heating, ventilating, and air conditioning (HVAC) unit, as they are responsible for regulating and circulating all of the air involved in such systems. An air handler is typically a large metal box, composed of a blower, heating or cooling elements, filter racks, sound attenuators, and dampers, that is attached directly to your home or commercial property ducting, distributing the heated or cooled air throughout the building and then collecting it again to continue the cycle. When problems occur within air handling units, these problems can quickly spread throughout the entire heating or cooling system of a home or building.
Some common problems associated with air handlers include:
Dirty or clogged air filters
Dirty or obstructed evaporator coils
Fortunately, most issues that can potentially arise with air handlers are easily preventable through regular maintenance by a licensed HVAC professional. At All Day Air Cooling & Heating, our technicians are well versed in all issues that arise with air handlers, and well experienced at addressing and repairing these issues. Even better, we provide a variety of service plans that provide for regular air handler maintenance, ensuring that problems are not only treated effectively, but prevented before they even have a chance to start.