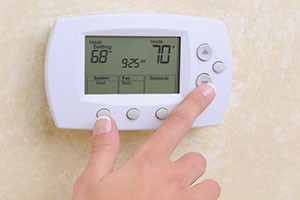 Considering Upgrading Your Thermostat?
With today's modern technology, a thermostat is no longer just a box that sits on your wall and allows you to adjust the inner temperature of your home. While traditional thermostats are still around and still incredibly common, modern thermostats also offer an abundance of extra features, such as remote access or programability. Even traditional thermostats that exist only as a means of setting temperature have been greatly approved upon, and complicated, hard to read and equally difficult to adjust dials have become a thing of the past.
When choosing the right thermostat for your home, there are multiple considerations to be made.
#1Do you want a thermostat that you can simply set and forget about until the next time you need to change it? If this is the case, then a simple traditional model may be the best option for you. Nowadays, traditional thermostats come in digital formats that are easy to both read and set as applicable. If you have a set schedule that rarely changes but do not want to have to worry about setting your thermostat every time you come or go, then a programmable thermostat can likely provide the convenience that you need.
#2
Many modern thermostats even come equipped with remote access technology, so you can change the temperature in your home without even needing to be there in person. Left your air conditioning blasting this morning and are concerned about wasting both energy and your hard-earned money throughout the day till you can get back? With remote access to your All Day Air Cooling & Heating systems directly from your smart phone, you can quickly and efficiently access your system anywhere that you have an internet connection.
Thermostats from Byrant®
All Day Air is proud to be an authorized dealer for Bryant®, the leading manufacturer of environmentally sound and efficient air conditioning units and handlers. In addition to our quality cooling systems from Bryant®, we also offer both their Thermidistat Control and Housewise thermostat systems. While the Thermidistat Control system is unique in that it offers settings for both temperature and humidity, both systems were designed to set the highest standards in indoor comfort. Housewise, on the other hand, was designed with energy efficiency in mind, and provides average annual savings of approximately 20%. In addition, both systems are incredibly easy to use, compatible with your smart phone and other devices, and make controlling the atmosphere inside your home as simple and convenient as hooking up to the internet. Wherever you happen to be in the world, All Day Air, working along with Bryant®, makes it easy to tap into and monitor your home's environment.