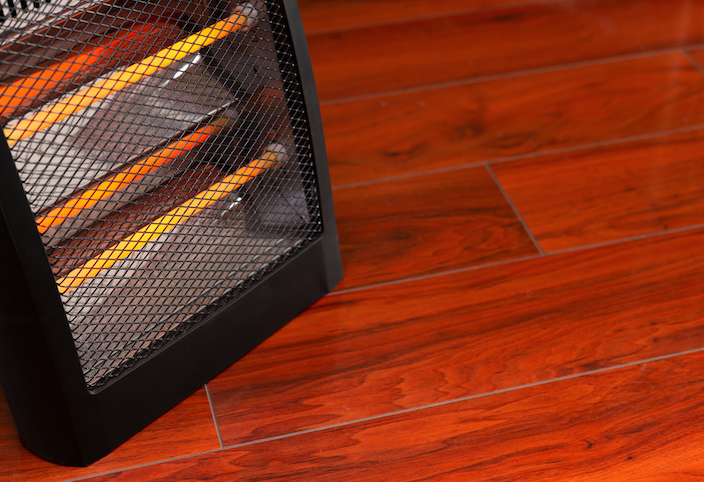 Space heaters are wonderful this time of year. It's cold in Florida, we aren't used to it.
Turning on a whole house heater isn't always necessary. A good space heater is often the best answer, but as many of us are not used to using a heater at all so we wanted to keep you safe and just review a couple of "hot tips" to keep you warm and cozy as well as safe this winter season in Southwest Florida.
Always plug your heater directly into the wall rather than trying to plug into an extended cord outlet strip. It is a fire hazard.
Sleeping with the space heater on: Do not leave your heater running overnight while you are not awake … Leaving a heater on overnight

creates a potential safety hazard. It also can dry out your skin and nasal passages.
Make sure your heater has a safety device so that if it tips over or overheats it automatically shuts off on its own.
If you use a heater, Install smoke alarms on every floor of your home and outside all sleeping areas and test them regularly.
Distance – Placement of space heaters is vital. They must be kept at least 3' away from anything that can potentially burn.
Level placement – Only run heaters on a flat surface. Never place heaters on tables, furniture, or carpet – they can overheat and start a fire.
Always unplug when not in use any space heater in your home.
Read and adhere to all manufacturers warnings and suggestions. Read the pamphlet that comes with it before you toss it in a junk drawer or in the trash.
Improper use of heating equipment is the second leading cause of house fires in the USA. Over 65,000 homes each year have insurance claims related to portable heaters. It can result in costly damage, injury, and even death.
Be safe my fellow Floridians. This cold snap won't last long, in the meantime use our tips above, grab a cup of coffee or tea and snuggle in.
If you need any work done on your central heat, give All Day Cooling and Heating a call today. (239) 357-0727 or visit www.alldayaircooling.com. We are a full-service HVAC company and available to you 24 hours a day 7 days a week.