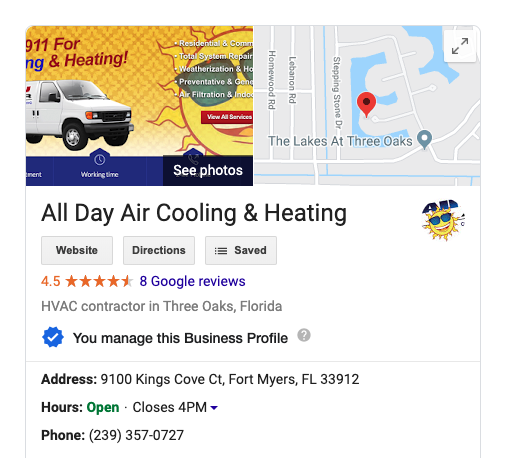 At All Day Air Cooling and Heating, one of our core missions is to dazzle the customer. Our technicians strive for excellence going above and beyond simply meeting our customer's needs. We choose to show true appreciation for choosing All Day Air Cooling for your office and home comfort needs year-round.
We receive calls and emails pretty much daily praising our employee's professionalism. We know that the internet has become the first stop for consumers on the hunt for a new HVAC company.
Reviews and recommendations mean a lot. We thank you sincerely for taking the time to do an honest review of your experience with All Day Air Cooling and Heating of Fort Myers, Florida.
If you are so inclined to review your experience with All Day Air Cooling and Heating's service we would very much love to hear from you.
Review us on Google Business by going to https://g.page/all-day-air-cooling-heating
You may also go to the same link to check out what prior and current clients are saying!
Jeff Tyler says "Called them at 8 pm on Thursday, and they took care of me that night. I have used them for several years, and always very very pleased with service, prices, and professionalism.  Joe and Jeff are the best. Best AC shop in SWF."
Marisa Chase says "Shawn and Joe installed my unit in September and they were fantastic, professional, honest and fairly priced. My energy bill has gone down by leaps and bounds while my home is always refreshingly cool. Had a part go bad on the unit. They came out the same day (just before a holiday) and were so helpful. Would recommend them to anyone!"
Katy Ann Young says: "The technician was so responsive. We didn't have an appointment and they came right over! He explained everything that was wrong and how to prevent it in the future. I am also a fan of the great price!"
Just a small example of how we can help make your life easier and more comfortable.
Give us a call to schedule: Services, Maintenance, and Sales! With All Day Air Cooling & Heating, we take great care of you. 239-357-0727. www.alldayaircooling.com.