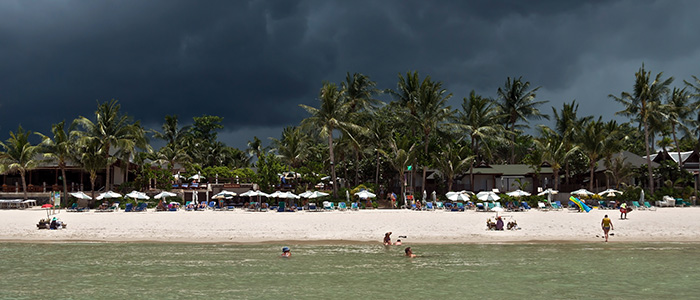 Many people visit Southwest Florida every year because of its tropical climate, especially in the winter months when the northern United States are usually blanketed in snow. Florida offers a comfortable alternative. Although the Florida climate is often seen as reminiscent of paradise, there are actually some features of Florida that require people to make substantial adjustments to their buildings and indoor environments with heating and cooling systems.
Most longtime residents of Southwest Florida will tell you that there are two main seasons: rainy and dry. The rainy season is the hot and humid summer, and the dry season is the less-humid winter. Most of the rainy season months are characterized by intense afternoon thunderstorms. These storms are frequently associated with quite a bit of lightning and torrential rains. These storms often cause power surges and intermittent, short-lived power outages because of the lightning. For this reason, the need for surge suppression in Florida is often higher than other climate areas.
At the same time, these summer months are characterized by very high humidity and high temperatures. Whereas the high temperatures of the Western desert states are often mitigated by its being "a dry heat," Florida's heat is wet, thick, and sticky. This is the primary reason that nearly every single home in Southwest Florida has a central air-conditioning system. People will run the system just to maintain low humidity indoors. Despite the outdoor heat, some people carry sweaters into stores and other air-conditioned commercial space because the air conditioners have to run continuously in order to compensate for the high humidity and heat. This constant use also puts a lot of strain on air conditioning units, which require good, expert upkeep.
Winter, or "dry" months are relatively more pleasant, though the temperature can still soar from time to time. Although the humidity does fall relative to the summer, it can still be high, and air conditioners are still most often in use. However, there may be a few days here and there in which the temperature drops. Daytime maximums may be around 60 degrees, and overnight lows can sometimes approach freezing. These cold snaps can damage the citrus crops if they last too long, and some other plants do not respond well to freezing temperatures. Because Florida is normally warm, many homes do not have dedicated heating systems and instead might rely on an air conditioner equipped with heating strips or other inefficient heating system. Because these are used so infrequently, they too should be inspected and maintained before catastrophic damage can occur.
Florida's climate and the beautiful landscape is a draw for visitors from all over the world, but that climate does give residents some special problems to overcome. At All Day Air Cooling and Heating, our experienced technicians are very familiar with the needs of residents of Southwest Florida because of the unique climate, including many different services such as surge protection, insulation, air treatment, and of course cooling and heating. Be sure to contact All Day Air today: (239) 357-0727.