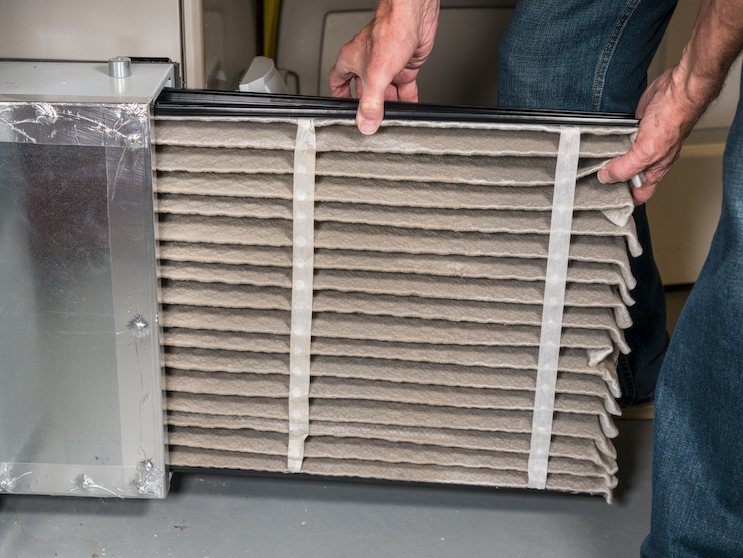 Let's face it, we don't give much thought to our air conditioners unless they break down. Making sure to regularly change your air filter can drastically improve your unit's efficiency as well as helping to keep your air clean and your health at its most optimal.
The main purpose of an air filter is to help trap dirt and dust and keep it from clogging up and reducing the efficiency of your HVAC unit as well as keeping the dirt from being recirculated back into the air.
One of the main questions we get is "How often do I need to change my AC filter?" The standard answer is every three months. If you have pets or allergies, you may want to do it monthly. A visual inspection is the best way to tell how your filter is doing. If it looks dirty or clogged, change it.
Important things to Look For
Check the MERV rating. MERV stands for Minimum Efficiency Rating Value. This lets you know how effective that filter is when it comes to trapping impurities. MERV values go from 1 to 16.  The lower the number the less it traps. While the lower ratings do contain pollen, dust, and mites, they won't help with bacteria or tobacco smoke… check out this rating chart to get the right filter for your home needs. Learn more: https://www.coolray.com/img/uploads/What_does_MERV_Rating_mean.pdf
Please Do Not Try to Clean an Old Air Filter
Try and save time or money by vacuuming off, dusting, or banging out the dirt and debris from an old filter so that you can use it longer. Washing it will damage the filter allowing for even less air flow.
Know the Size
If you run to the store to grab a new filter yourself make sure you know what dimensions you need. Bring the old filter with you if possible. There is nothing more frustrating than standing in the filter aisle staring at the racks of filters thinking "Hummm, I think it might be about that size" because when you get all the way home and you are just an inch off and it doesn't fit? It won't be a happy second store run.
If you are in the market for service, maintenance, or even a new unit, be it residential or commercial we hope you think of All Day Air Cooling and Heating of Fort Myers, Florida. We serve the entire SWFL area including Naples, Fort Myers, Lehigh Acres, Estero, Bonita Springs, and even Marco Island. Give us a call today to schedule an appointment 239-357-0727. www.alldayaircooling.com.