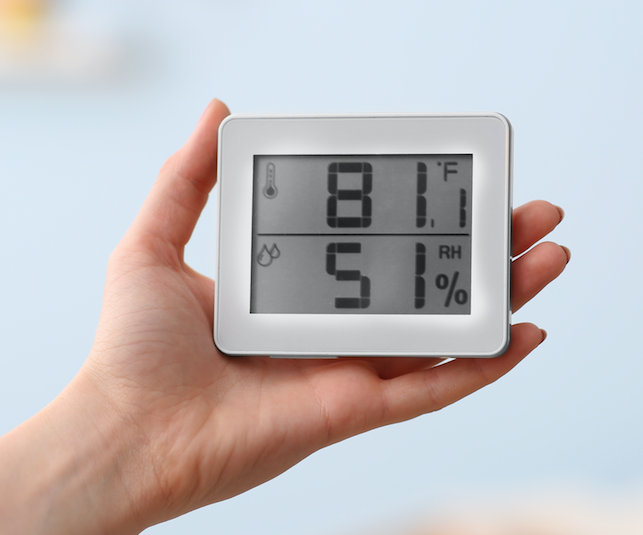 Did you know that there was a way to rid your home of humidity without having to buy a humidifier? Indoor humidity levels are the most pleasant at 30% to 50% humidity. Higher than that can get uncomfortable.
Your hair may be frizzier than usual, the air feels damp, you may sweat without exertion, pets sweat and thereby need to be bathed more often, sleep may become an issue and even mold may form in damp areas like kitchens, showers, and baths.
Let us share a couple of tricks with you.
Turn the thermostat down as low as you can take it, high 60's to low 70's. Leave it running for about an hour or so. You will find that most of the humidity is gone from the air in the home.

Weather permitting, open the windows and turn on all fans in the house. Just for a short time, but getting fresh air in can help with overall ventilation.

Line dry clothing if possible. Dryers, even when properly vented outside increase moisture in the air.

Reduce shower time – The longer a shower runs, the more steam they produce.

Replace your AC filters – if the filter is clogged it slows down air flow.

Houseplants – If you have a large number of houseplants surprisingly the water evaporation from the soil can increase the humidity level in the home. Don't ditch the plants, cover the soil with plastic wrap or foil.

Bake – Having the oven on reduces humidity levels.
If your home is still too humid and uncomfortable it is nothing to mess around with here in SW Florida where toxic black mold can grow and spread quickly. If you are unable to get your homes humidity levels under control it may be time to consult a professional. Here at All Day Air Cooling and Heating, we know HVAC. We would love to talk with you. Give us a call at 239-357-0727 or visit www.alldayaircooling.com.